LP Tested and Approved Products
I love (and use) each of these products and I think you will too!
These products can help you by developing your golf skills, supporting your body, dealing with recovery and pain management, and looking and feeling good on the course. I'm pretty darn picky about what I buy and expect the best so I only align myself with what I feel are the Laura researched and tested best products on the market. I also personally use everything listed on this page.
FTC Disclosure: Purchasing products directly through me or using discount codes or referral links help me to fund new and continuing education and track down the coolest new products at the PGA Merchandise Show in Orlando. Thanks for your support! Note: by clicking on any of the links in the online product section, you are consenting to use cookies on your computer or device. Click here for more info.
In-Stock Products (order directly from me)
RotexMotion Devices by Dr. Joe LaCaze
As a RotexMotion Authorized Instructor, I use it personally and in my teaching. These devices not only support the body in maintaining optimal range of motion, but also help golfers feel what it is like to engage their core in their golf swing, maintain posture during the golf swing and how to get good rotation (pivot or coil) around your spine instead of sliding. All units are sold at MSRP and I have handhelds in stock. If you would like the (floor model) or you don't live close, I can order the units to be shipped to you. All RotexMotion exercises can be found here: https://www.rotexmotion.com/pages/training
ROTEXMotion is a total body system. It is the most versatile and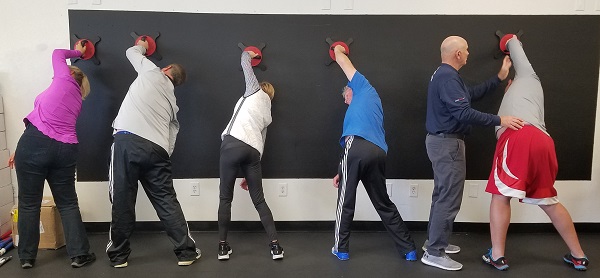 comprehensive exercise program available for sports. It can be used within any athletic training or exercise program to accomplish all of the following goals: Optimal Range of Motion, Stronger Rotational Stabilizers, Injury Reduction, Muscle Activation, Rehabilitation, and Recovery. RotexMotion is being used by many trainers and athletes throughout the world. This list is impressive but once you use Rotex, you'll understand why: https://www.rotexmotion.com/pages/associations
To place an order please send me an email at LPGolfAcademy@gmail.com or call 763-267-7531. I can invoice any orders and have them shipped straight to your house. If you live local in the West Minneapolis Metro area and are purchasing an in-stock product, local pickup can be arranged saving on shipping costs.
Mach 3 Speed Training Products by Mike Romatowski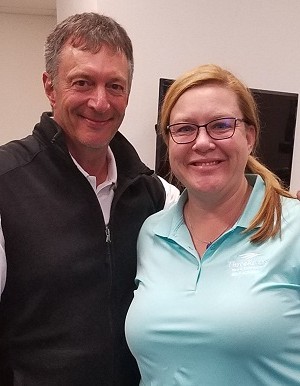 Mach 3 is not only a program that helps to create speed, it helps to create speed through efficient athletic motion. I believe it is the best golf-specific training program available today. Mach 3 has created tools to train (and understand) how and where you are delivering your energy (and speed) in a golf swing. These tools help to create feelings and sensations that words have been trying to describe for years. All tools are sold at MSRP and I carry jetsticks in stock. I can order any other combination of tools and have them shipped directly to you. View products here:https://mach3speedtraining.com/golf-training-tools/, but please remember to contact me directly to purchase rather than purchasing from the Mach 3 website.
For speed training to be truly effective, you must use tools that promote the development of POWER. Power is the combination of strength and speed. We focus mostly on speed, although the crossover benefit of Mach 3 training is the development of "golf strength," in other words a type of strength that is useful in golf. It's functional strength… not the kind of "straight line" strength that you get in the weight room, but a combination of mobility, stability, and rotational strength that is of huge benefit not only in golf, but in life. Mach 3 also uses RotexMotion products to prepare and balance the body for motion.
To place an order please send me an email at LPGolfAcademy@gmail.com or call 763-267-7531. I can invoice any orders and have them shipped straight to your house. If you live in the West Minneapolis Metro area and are purchasing an in-stock product, local pickup can be arranged to save on shipping costs.
Products that you purchase online:
This was the surprise highlight of the 2020 Merchandise Show. Pro's were all grabbing their friends and taking them to this booth. This is best putting simulation software that I have ever seen. It has a consumer-level price point and it is trusted by professionals. How do I know that? Because we were all buying them to use both personally and with our students. Imagine if you could hook a camera to your TV via HDMI, lay a mat on the floor and start practicing or playing against your friends with putts up to 50ft. Well, the future is here folks! This is a Korean tech product that is finally making it's way to the American market. You've never heard of it because it just crossed the ocean.
In practice mode, the unit gives face/path data for putting. You can change the green speed anywhere between a 6-13 stimp in order to match the course you play. It reacts similarly to what you think would happen if you were putting on a green - it's that good. Oh, and it collects data to tell you where you need to spend more time practicing. You have game modes where you can challenge yourself or play against friends. This takes an extra level of mental visualization but the "squat angle" helps and they have color-coded topography maps of the greens...no more trying to figure out those little moving dots on the screen.
Price $469 with free shipping in the US. Click here to purchase your unit today! https://exputt.myshopify.com/?ref=fqxopnmyyu4
Use the Vimhue Promo Code LP10 to get 10% off your purchase at checkout!
I can't say enough about this company and their hats. A wonderful group of women decided to redesign the traditional athletic cap in order to support and empower women in their athletic endeavors. Their hats feature lightweight, moisture-wicking, sun-protective materials and are designed specifically for the female athlete. Vimhue hats provide endless combinations for ways to style your hair so you don't have to worry about your hair while you perform!
Note from Laura: I have to say, the high pony helps to keep your hair off of your neck, which is great on hot days. My Mom loves it because her shorter layers won't stay in the low pony traditionally needed for a hat, but she can get her shorter layers into a high pony. Has anyone else here had to request to their hairstylist that all their layers need to be long enough to make sure they can reach the low pony position? Well not anymore! Remember to enter coupon code LP10 at checkout - on mobile devices you will have to click "show order summary" to find the place to enter the discount code.
Use the promo code LPatrick2020 to get 20% off your SParms purchase!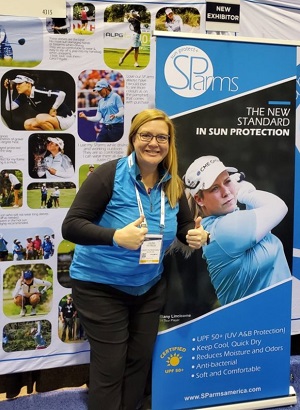 The ability to integrate sun protection into lightweight cooling clothing has been one of the greatest inventions for golfers and outdoor enthusiasts. I've been using sleeves for years that typically come in one or two sizes, but never found one I LOVED until I tried SParms. Not only is their materials silky and cooling, but they have solved the biggest issue with traditional sleeves - how to be comfortable wearing them. Depending on your size, most arm protection sleeves either cut off circulation or fall down all the time. Since SParms is sun protection for your arms, they have mastered this arena of sun protection instead of offering sun sleeves as an afterthought. They offer many different sizes of sleeves and shirts and have also created the greatest invention in sun protection - the shoulder wrap.
The shoulder wrap is for both men and women and keeps the sleeves held up without the use of elastic around the arm or having to wear a long sleeve shirt under your clothes. Looking at their product, I thought I would hate it as I am really picky about how things tug and pull in my clothing. I couldn't believe it when I tried it on. It is so stretchy, it doesn't feel like you have anything on! Sizes are in unisex, have generous stretch, and are based on shoulder width. You can also wear these with sleeveless shirts and tank tops as well - over or under. Remember to use the coupon code LPatrick2020 at www.sparmsamerica.com
Training aid purchases receive a discount of approximately 10% (discount code is embedded in the link and will be automatically applied in the final checkout window - it's those cookies working their magic). Browse Training Aids from many different companies and professionals all in one place.

Golftrainingaids.com is owned and operated by Golf Around the World and is now located in Boca Raton, Florida. Founded by PGA Master Professional Dr. Gary Wiren, in 1984 as a resource for providing training aids to teaching and touring professionals, Golftrainingaids.com has expanded to now offer t

he world's largest selection of golf teaching and training aids. Serving the golf industry for over 30 years, we are the most knowledgeable one-stop-shop for all of your training needs.
My personal favorites that you see me use regularly: Eyeline Putting Mirror, Putting Stroke Teacher, and the eGolfRing (6 footer)
Enter the Orange Whip promo code: LPGolf to get a $10 discount off your purchase!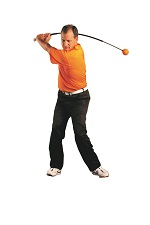 Check out The Orange Whip Wedge inspired by Stan Utley - hit shots with your Orange Whip. It's a game-changer for the short game!
The Orange Whip Trainer is the ultimate golf tempo trainer for today's golfer and athlete. The patented design provides the greatest feedback for tempo and balance training.
Whether you are a Tour Player or a beginning golfer, using the Orange Whip Trainer allows you to feel if your swing is actually in rhythm and balance. Providing a low impact workout, the Orange Whip Trainer will increase your flexibility and strengthen your golf muscles. Ask any Tour Player or Golf Instructor and they will tell you it's the perfect warm-up tool because it properly stretches your golf muscles while perfecting tempo and balance.
FLEXIBILITY & RANGE OF MOTION: Provides a low-impact stretch for core fitness and flexibility
STRENGTH: Develops core muscles, wrists, and forearms
COORDINATION: Synchronizes the arms and body
TEMPO & BALANCE: Forces the arms and body to work together.
INSTANT FEEDBACK: The weighted orange ball, flexible shaft, and counterweight provide instant feedback that you feel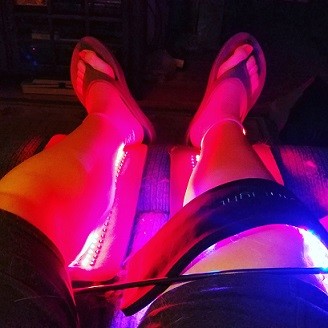 Light Therapy has literally changed my life. My family and I use it regularly to support my body at the cellular level for health, wellness, and recovery. The science behind it is just amazing and new medical studies are coming out almost every day on how it helps support the body in its ability to heal itself. We were worried about the quantity of NSAID use in our family and was looking for a healthier way to manage pain and soreness while increasing our quality of life. I was such a fan of how it helped me and my family that I ended up becoming a Board Certified Light Therapist (BANHS) due to all my research and education on why it worked. I use medical grade light therapy devices designed for home and portable use. If you would like more information about this health and wellness product, please contact me at 763-267-7531 or click here for more detailed information (you can also click the Light Therapy tab in the menu).
*Laura Patrick is not a licensed physician and is unable to cure, diagnose, mitigate, prevent, or treat conditions. Products depicted are for pain reduction and increased circulation. Light Therapy should not be used as a replacement for medical treatment from a licensed physician or other healthcare provider.
Marissa is a Level 2 Certified Katherine Roberts Yoga For Golfer's Instructor and was the 2019 LPGA Northeast Section Teacher of the Year (pssst...I nominated her because she is that awesome). She offers online Yoga For Golfer's Classes on Zoom. If you love Yoga and want to improve your fitness and flexibility, Marissa's Zoom Classes (both live and recorded) are a great solution to work on your fitness from the comfort of your own home and on your own schedule. She offers single classes, monthly, and season packages.
https://app.acuityscheduling.com/schedule.php?owner=18455590&appointmentType=category:Yoga%20for%20Golfer%27s
Ever wonder how I stand on my feet for 10-13 hours a day all summer long??? I've used a lot of topicals for pain management over the years. I wanted the pain to go away, but hated feeling completely numb or freezing cold. I also didn't want people to be able to smell me from a block away. Finally, I was tired of putting NSAIDS into my body day after day. I started using RTPR in 2017 when I was dealing with plantar fasciitis. I continued to use it on my feet and any other pain. I decided to start working with the company since I already believe in their products and their ingredients. If you would like a free sample, just let me know. I have some extra travel packets I've accumulated over time and I know I personally like to try stuff in person before deciding to give a company my personal information (see below).
If you just want to browse, please visit: https://rtpr.com/hub/4956328f First-time customers can receive a FREE $10 Gift Card to RTPR.com. Simply go to RTPRGiftCard.com to redeem your Gift Card and use Activation code: 4956328f when you register. Then, Real Time Pain Relief will deposit a $10.00 credit into your account. It's like money in the bank- you can use it whenever you're ready!
All Real Time Pain Relief formulas are made in an FDA monitored facility. Thousands of Real Time Pain Relief customers have shared satisfied testimonials about finally finding pain relief that they can trust. RTPR is a family-owned and operated business that is proud to say that they've been around for over 20 years.
HeartMath - Learn to manage your stress response in real-time!
First tee jitters? Trouble closing out a good round? Always blow up on a certain hole/course/situation? Struggle to recover from a bad shot? Learn to manage your emotions, stop the negative thoughts, and improve your stress response in real-time for better decision making and performance!
The ability to respond to stress and to be resilient are some of the most important skills a golfer can learn. Many of you have heard me say, "Doubt is the number one cause of missed shots." Doubt is based on fear of what might happen in the future. Learn to calm down your body's response to stress and take back control of your feelings, thoughts, and body. Did you know that the stress response shuts down higher-level brain function? Think about that the next time you wonder why you responded in a less than optimal situation when you were under stress. HeartMath programs can not only help you to perform better but also to live a happy, more fulfilled life.
HeartMath is a secret weapon that is used by a large number of elite athletes, doctors, CEO's, and the military to increase performance under stress? You may have never heard of it, but it has years of research and is backed by science. I first learned about it from Lynn Marriott and Pia Nilsson (Annika Sorenstam's Coaches and Vision 54 Founders) in 2007. I became a licensed Heartmath 1:1 provider in 2013 and a HeartMath Coach in 2015. The skills you learn from this program will help to transform every aspect of your life.
Heartmath now offers a self-paced on-line learning program called The HeartMath Experience for $30. This program is filled with a tremendous amount of information and tools that can be implemented right away for minimal time and monetary investment. We can then work the knowledge and tools into our individual lessons to include better performance. This is a much better method to integrate these tools into your game and life versus paying private lesson rates of a few hours for this knowledge.
My other favorite resource is the e-book "Managing Emotions - Golf's Next Frontier". This short book may be the best thing you'll ever buy for understanding how you react on and off the golf course to stress and what you can do to change your patterns. I also highly recommend this book to parents of junior golfers (for both yourself and helping your kids).
Inner Balance Technology is an awesome device for real-time feedback on how you are affecting your physiology and to make sure you are using the HeartMath tools to their greatest benefit. Available for Android and Apple products.
For More information on HeartMath Coaching visit my dedicated HeartMath Stress Management and Performance Training Page.
HeartMath is a registered trademark of the Institute of HeartMath. emWave and Inner Balance are registered trademarks of Quantum Intech, Inc.
A student of mine created skin solution. She actually gave me a couple toilettes at the end of my golf class because my earlobe was bleeding from peeling skin that I had gotten from a sunburn. I'd been trying to get it to heal for a couple of weeks - all day sun combined with sunscreen wasn't helping the situation. I thought sure, yeah right this product is going to fix my ongoing problem. She told me to use the toilette on my ear and then to use the rest on my face. I used it on my ear right away and used the rest of the toilette of my face that night. First of all, I couldn't believe how great the oils felt on my sun-beaten face at the end of the day, and then a few days later my ear healed too. I couldn't believe it. I bought a bottle of Skin Solution from her thinking wow, I really like this stuff but you only get an ounce, and I go through sunscreen and lotion like crazy. I bought the bottle and used it DAILY...it lasted about four months. A drop or two makes my face feel amazing after being sun and wind burned...so much that I threw away my facial moisturizer. I also use it all winter on my face to help combat the dryness. And yes, I'll often use it in the place of Neosporin. So that is why I love Skin Solution and am recommending it to other weather-worn golfers. Once you try it you'll be hooked! Just remember, it's also created by one of my awesome students and it's a great local business. How can you go wrong? Click on the photo for more info.
Affiliate Disclaimer:
This Compensation Disclosure has been provided for your protection and to fully disclose any relationship between this site's product or service recommendations and the owners of those products or services. The owner of this website is required by the FTC to inform you that a relationship exists between LauraPatrickGolf.com and some of the products or services it reviews, recommends or promotes.
LauraPatrickGolf.com makes use of affiliate relationships with merchants for monetization. This means when you click on links to various merchants on this site and make a purchase, this can result in a commission that is credited to this site. Some affiliate programs and affiliations include, but are not limited to Infusionsoft, Rakuten Marketing and any companies with above-listed links.
The opinions expressed here are those of myself as an individual and are not necessarily the opinions of nor reflect the views of any merchants I am affiliated with. I have chosen to only recommend products and services on LauraPatrickGolf.com that I use or have thoroughly researched. I earn a full-time living as a golf coach, so when informing people about available golf products and services, so it is essential that I maintain my credibility. I take my responsibility as an affiliate and subject matter expert very seriously.
Disclaimer text adapted from www.marydemuth.com
Any registered trademarks or servicemarks listed on this page are the sole owner of the companies listed and are used only to promote their products.