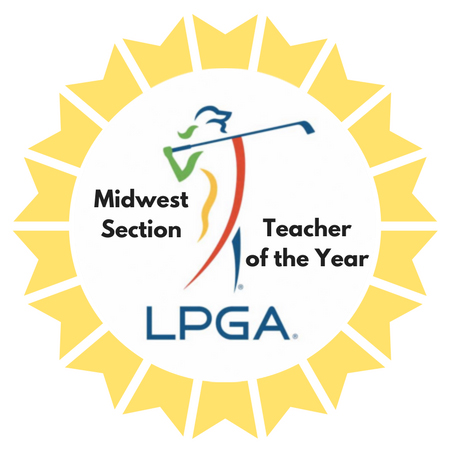 Note: Due to demand, I cannot take on any new students at this time.
Take the first step towards a better golf game by scheduling your lesson with Laura Patrick today!
Laura's teaching style is fun and honest, but most importantly she creates an atmosphere that is conducive for learning while using proven coaching methods based on fundamental physical, mental, and motor learning concepts. She focuses on what each student needs to accomplish to improve his or her game no matter what their level of play. Laura's students get results and look forward to their time spent with her.
Off-Season Booking Instructions (October-March)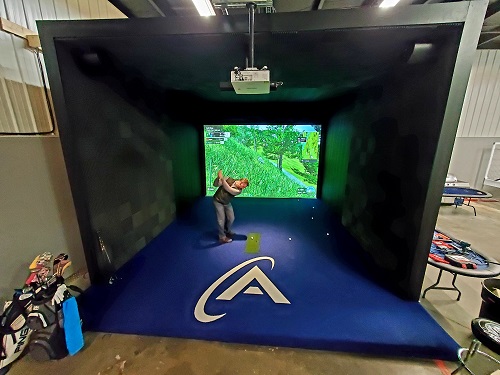 Lessons will be held at my new private teaching studio in Long Lake. Cost is $125 for a 55-minute session.
Lessons are by appointment only with at least one day's advance notice. Lessons can be split with a friend and each person would receive approximately 25 minutes of instruction (There is an additional $15 fee for the extra person on top of the base lesson price). I now have a putting simulator so one person can work on putting while the other is in the main hitting bay. The Simulator is located inside: All Around Construction 2265 Wayzata Blvd, Long Lake, MN 55356 (located across the street from the Otten Bros. shrub/tree out-lot)
Winter Season update: I am not able to accommodate any new students at this time. Please call Laura Patrick directly at 763-267-7531 or send an e-mail to LPGolfAcademy@gmail.com for more information.
In-Season Booking Instructions for Private Lessons at Baker National (April-September)
My voicemail and email volume is extremely high. It may be a few days before I am able to get back to you. The golf staff is doing their best to meet the unprecedented level of demand for instruction (both private lessons and classes). If you cannot get into the schedule, feel free to use the on-line waitlist option and make a note of what time of day you are available. Make sure your contact information (phone and email) are up to date so I can get ahold of you in case something opens up. Please note that current and long-time students will take precedence on the waitlist.
2022 Baker National Private and Semi-Private Lesson Rates
All payment is made directly to Baker National at the time of check-in for a private lesson.
Note: I am not able to take on any new students at this time.
Adult Private Lesson

$125 - 55 minutes

Adult Semi-Private Lessons

55 minutes (up to 4 people)

$140 - 2 adults ($70 per person)

$155 - 3 adults ($51.66 per person)

$170 - 4 adults ($42.50 per person)

Junior Private Lesson (ages 8-22)

$100 - 55 minutes
Scheduling Private Lessons at Baker National
Due to large call volumes, Baker has moved to online scheduling with a new software called Uschedule. Please visit: https://clients.uschedule.com/bakernational/booking If you do not see any availability, it is because there are no openings available. The software also allows you to add yourself to a waitlist (for a particular day) in case any time becomes available. I only teach private lessons Monday-Friday. Please leave detailed information in the notes field regarding what time of day you are available (and any additional notes regarding the lesson). I will only reach out to you if an opening occurs that matches your request. Please note that current and long-time students will take precedence on the waitlist.
Private lessons can be scheduled for up to four people. For numbers larger than four or for private golf groups we can customize a program that works for you, please contact Laura directly.
Contacting Laura at Baker National
If you need to contact Laura with a question please email LPGolfAcademy@gmail.com and also leave a call-back number. Due to large call/email volume, it may take a few days to receive a reply. If it is an urgent request or to cancel/reschedule, you can log into your Uschedule account (to cancel) https://clients.uschedule.com/bakernational/booking or call the Baker National Golf Shop at 763-694-7670 x2.
Looking for Group Programs (Classes, Camps, Clinics) at Baker National?
If you would like to register for a group program, class, or camp, please visit www.threeriversparks.org. Most classes will be taught by Andrew Wituszynski or another staff member at Baker National.
Note: If you have taken PRIVATE lessons before, your log-in and password were automatically generated by SmarterLessons. Search your email for your log-in information. For new students, it is free to set up an account with smarter lessons, but a credit card will be needed to reserve your reservation (it will not be charged). Payment will be collected at the time of the lesson.