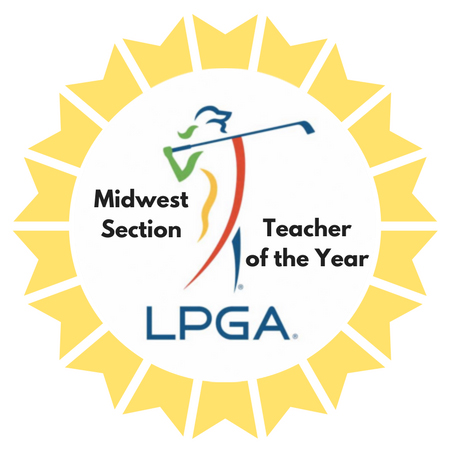 Take the first step towards a better golf game by scheduling your lesson with Laura Patrick today!
Laura's teaching style is fun and honest, but most importantly she creates an atmosphere that is conducive for learning while using proven coaching methods based on fundamental physical, mental, and motor learning concepts. She focuses on what each student needs to accomplish to improve his or her game no matter what their level of play. Laura's students get results and look forward to their time spent with her.
Off-Season Booking Instructions (October-March)
Winter Coaching is $85 for a one-hour private lesson held at PGA Tour Superstore in Minnetonka.
Offer: Cash or check payments made payable to Laura Patrick will be discounted $5 ($80/one-hour lesson)
If you would like to split the lesson with a friend, the cost is $50/person and each person will get a half-hour lesson. Lessons are available at The PGA Superstore in Minnetonka Monday-Friday with at least a day's notice. If another facility is needed, any facility rental costs will be the responsibility of the student. I do not work for PGA Superstore, but rent available space - all payments go directly to Laura Patrick. PGA Superstore policy asks golfers to leave their golf bag and headcovers in the car (for theft prevention). Bring in the clubs you'd like to hit during your lesson. If you aren't sure what to bring, a putter, wedge, mid-iron, hybrid/fairway wood, and driver should suffice.
Please call Laura Patrick directly at 763-267-7531 or send an e-mail to LPGolfAcademy@gmail.com for questions or to schedule your lesson.
(note the log-in below is only for in-season private and semi-private lessons at Baker National)
In-Season Booking Instructions for Private Lessons at Baker National (April-September)
Baker National Private and Semi-Private Lesson Rates
All payment is made directly to Baker National at the time of check-in for a private lesson.
Adult Private Lesson

$85 - 1 hour

Adult Semi-Private Lessons

1-Hour (up to 4 people)

$95 - 2 adults ($47.50 per person)

$105 - 3 adults ($35.00 per person)

$115 - 4 adults ($28.75 per person)

Senior (62+)/Junior Private Lesson

$75 - 1 hour

$40 - 1/2 hour

Junior Semi-Private Lesson

1 hour (up to 4 people)

$85 - 2 juniors ($42.50 per person)

$95 - 3 juniors ($31.66 per person)

$105 - 4 juniors ($26.25 per person)

Family Lesson

(up to 6 people from same household)

$TBD - 1 hour

Must include one junior 17 or under
Scheduling Private Lessons at Baker National
You can use the box below to log into SmarterLessons to schedule private lessons or if you prefer to schedule your lesson by phone, please call Baker National at 763-694-7670 x2 and any staff member will be able to assist you in scheduling a lesson. Private lessons can be scheduled for up to four people. For numbers larger than four or for private golf groups we can customize a program that works for you, please contact Laura directly.
Contacting Laura at Baker National
If you need to contact Laura with a question, her direct line at Baker National is 763-694-7671 (please leave a detailed voice message) or via email at LPGolfAcademy@gmail.com. If it is an urgent request or to cancel/reschedule, please call the Baker National Golf Shop at 763-694-7671 x2. The golf staff can make any necessary changes to my schedule and can track me down on the lesson tee if needed.
Looking for Group Programs (Classes, Camps, Clinics) at Baker National?
If you would like to register for a group program, class, or camp, please visit www.threeriversparks.org. All classes will be taught by myself or the other teaching professionals at Baker National. I will know my class schedule by early-mid April.
Note: If you have taken PRIVATE lessons before, your log-in and password were automatically generated by SmarterLessons. Search your email for your log-in information. For new students, it is free to set up an account with smarter lessons, but a credit card will be needed to reserve your reservation (it will not be charged). Payment will be collected at the time of the lesson.