About Laura Patrick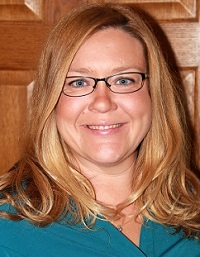 Laura Patrick, a Class A LPGA Teaching Professional and Titleist Performance Institute Certified Instructor, was awarded the 2019 and 2021 LPGA Midwest Section Teacher of the year honors. She is also a member of the LPGA Global Education Team, helping to educate and coach the next generation of LPGA Professionals from around the world. She has certifications or has had training in HeartMath, RotexMotion, Mach 3 Speed Training, and The First Tee. She has also been nominated by her peers for the LPGA Junior Leader of the Year Award and Golf Digest's Best Teachers in the State of Minnesota. In the summer Laura teaches at Baker National Golf Course in Medina, MN and during the winter season, she teaches at her indoor golf studio in Long Lake.
Since 2003, Laura has worked as a Teaching Professional for the Golf Academy of Three Rivers Park District at Baker National. She is a teacher and a coach in every aspect of the game and dedicates her career to creating an environment that is comfortable and welcoming to everyone. Laura enjoys working with all levels of golfers, ranging from competitive golfers to those who have never played before.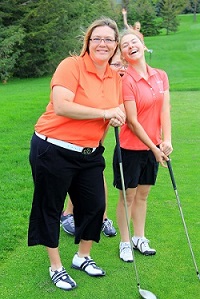 Laura works with programs of The First Tee, is the Co-Site Director for an LPGA-USGA Girls Golf Chapter, and also served as the Volunteer Coordinator for The First Tee of Three Rivers Park District for 18 years. Before moving to Minnesota, Laura was an instructor for several junior golf camps and women's clinics while an Assistant and Teaching Professional at Mt. Hawley Country Club in Peoria, IL.
Laura is also a licensed HeartMath Coach and is trained to help students increase on-course performance. She is also a Certified Light Therapist and helps people with health, wellness, and pain management through light therapy. She believes in helping her students with their golf skills, how emotions and thoughts affect performance, and how to work with your body through life's challenges.
Coaching Experience
Laura also served as The Women's Golf Coach at Augsburg College from 2005-2010. As Augsburg's Coach, her team recorded the best MIAC finish in 2009 and the lowest 54-hole total in school history. Laura improved the team's scoring average by 25.5 strokes and improved each player's stroke averages by an average of 7.1 strokes per player. In her final year of coaching, the Women's Golf Team also earned the most-improved team of the year award from the Augsburg College Athletic Department.
While coaching, Laura helped the scoring averages of her players drop as much as 10 strokes in one season and her players have taken home numerous honors. These honors include two NGCA Academic All-Scholars, two MIAC All-Conference Honorees, two Most Improved Players of the Year (MN Women's College Golf Association), and our MIAC All-Academic Honorees. In order to create this high level of success, Laura spent a lot of time with each player to develop a plan to maximize each player's potential. Her teaching focused on fundamentals, course management, and mental approach. Through her extensive competitive background, she also understood the demands and stresses of competing at a high level. Throughout the season, she worked with each player to ensure they were having a positive experience at Augsburg on and off the course. She has helped players with time management, overcoming nervousness, dealing with internal (and external) pressure/expectations, being a well-rounded student-athlete, etc.
Playing Experience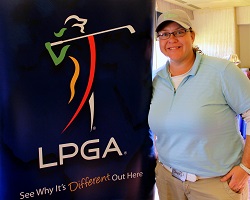 As a player, Patrick has earned numerous honors in the LPGA's Teaching and Club Professional division. She tied for 29th at the 2003 national championship and tied for fifth in the division's team national championship in 2004. In the division's Midwest Section championship she has consistently placed in the top ten (T5th – 2005, 5th – 2006, 7th – 2003 and 2004, and 9th – 2007). As an amateur, she played twice in the LPGA's State Farm Rail Classic in Springfield, Ill., and twice in the SBC Futures JWA/Anheuser-Bush Futures Golf Classic in Decatur, Ill.
Patrick competed collegiately at Bradley University (Ill.) after competing in her first season at Ohio State. At Bradley, Patrick set school records for low season scoring average and low 54-hole tournament scoring and was a two-time All-Missouri Valley Conference honoree. She was team captain and team MVP for a Bradley squad that claimed its first-ever MVC title in 1999. She earned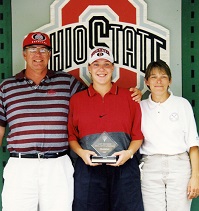 MVC All-Academic Team honors multiple times and was named to the National Golf Coaches Association Division I All-Scholar team in 2000. She was a finalist for Bradley's Watonga Award, an athletic department honor for community service, academic achievement and athletic success, in 2000.
At Ohio State, Laura set a new freshman scoring average record in 1998, took rookie of the year honors in 1998, and earned medalist honors at the 1997 Lady Buckeye fall invitational. Patrick was an Illinois high school state champion in 1995 and was ranked 23rd nationally among junior girl golfers in 1996 by Golfweek magazine. Laura also earned all-state track and field honors in shot-put and discus throughout her track and field career at Rochester (IL) High School.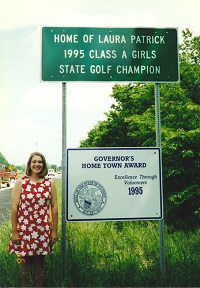 Patrick earned her bachelor's degree in business marketing from Bradley in 2001, graduating magna cum laude. She received the Dean's Scholarship from Bradley, was inducted into the Beta Gamma Sigma National Business Honor Society, and received the Marketing Excellence Award from the school's marketing department in 2001.
Laura lives with her husband Joe, one dog, and two cats. In her spare time, she enjoys taking her dogs to the off-leash area, photography, hiking, canoeing, and gardening. She also has a photography website called Life by Laura so be sure to check it out.
To request more information call Laura at (763) 267-7531!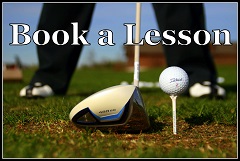 Testimonials
"Laura is the reason I enjoy golf today. In her lessons, after watching some swings she gets quickly to the point, explains simply and clearly the change(s) needed, and reinforces and refines the fixes as the lesson continues. I have learned that to enjoy golf as an older person, I need to be taking occasional lessons so that I can feel like I'm improving, not just getting frustrated. Laura has been a perfect instructor for my game, and I constantly use the changes she has suggested for more satisfying results." -Chris H.
"I have taken lessons from Laura for about a year now and have found her instruction benefited my golf game immediately. In the past I've had other Pros tear apart my swing to the point where it's been difficult to enjoy playing. Laura encouraged me to spend quality time on the range to reinforce what she corrected in my swing. I found out on the course I could see the results and feel the improvements she suggested. She has also helped me address some mental blocks which have caused plenty of frustration. I have enjoyed my lessons with her immensely and also have my two sons taking lessons from her as well." -Trish J.
" 'Keep it simple' – I have recently taken lessons from Laura and the benefits were almost immediate (after some work on the range of course). Laura keeps it simple so a person can take her teachings and apply them without feeling overwhelmed with change. Will definitely take more lessons from her and highly recommend!" -Tigh S.
"Laura brings an incredible amount of energy and passion to each lesson. Rule one for her is that golf is a game that none of us can perfect so enjoy the experience, enjoy those you are playing with, and enjoy the opportunity to improve course management. At the same time – though it seems initially at odds with the perpetual enthusiasm and humor – Laura brings a sense of calmness to an environment where frustration and disappointment can easily overcome success. That calmness translates directly to my first practice swing at the course through the last putt. I can't say enough good things about her philosophy and teaching." -William H. (student since 2009 and creator of the 4 F's of Golf Success – Fun, Fearless, Focus, and Forgiveness)
"Fun" with a capital F is how I describe golf with Laura. I have played golf since I was able to stand on my own two feet and have during my career had several different golf coaches, and Laura was by far the most hilarious coach I've ever had. Not only was she able to make me have fun while practicing and playing but she also had me see my potential both on and off the golf course. Although she was coaching several girls at ones she was able to see each of our abilities and areas for improvement while working with us based on our own learning methods. Laura teaches in a way that helped me learn so that I could apply it on the course. If I had a bad shot I had an understanding of what I was doing wrong and what I needed to do differently. Although always super energetic and happy she was always the one person who could calm me down during a golf tournament and who could make me have fun out on the course even in rough times. Laura is a wonderful person and a great golf coach and I would recommend her to anyone who asks." -Johanna K. (Augsburg Women's Golf Team Member)
"Laura's bubbly personality has made learning how to play golf FUN! She is approachable, dedicated, versatile and easy to learn from. She is an expert player and teacher, drawing from extensive experience to relate concepts and skills to each student's level. I'm a better player, and richer for having been taught by Laura." -Madeleine S.
"I hired Laura To give my sister a series of golf lessons for her birthday. My sister really enjoyed her lessons and is looking forward to continuing to work with Laura. Laura made the lessons fun and exciting! My sister still uses the techniques that Laura taught her. From this student/teacher relationship, Laura and I began sharing coaching techniques and working with each other through HeartMath's Zone Performance Program. Laura understands the necessity to combine the Mental and Emotional game elements with the physical and technical elements for peak performance in golf as well as in any competitive sport. This allows Laura to be the exceptional golf coach and teacher that she is! I would recommend Laura as a golf teacher and coach to anyone who is looking to learn how to swing a club as a beginner all the way up to a knowledgeable low index competitive player looking to find the added edge for peak performance! Laura is a great mentor!" -Mary P.
Laura-isms
People often enjoy the unique things I say - whether they are insightful or funny. My family always chalked it up to "Laura Logic", but here are some things you might catch me saying during lessons or out on the course:
"Most people are so busy worrying about themselves that they don't have time to worry about you, and if you are playing with someone who is worried about you all the time, maybe you need to find someone else to play with."
"You can only control what is actually under your control, but you can influence the outcome based on proper execution of the things you can control."
"Your score is the result of how well you do your job. If you focus on your score, it distracts you from doing your job"
"The feel isn't real! It's all relative to what you are used to doing." (regarding new things feeling weird)
"We are going to embrace weird. Anything that is different will feel weird. Figure out how it feels weird and do your best to make it feel weird every time. And guess what, if it feels normal too soon you're probably not doing it."
"If you don't have to use the bathroom at the turn, you aren't drinking enough water"
"Don't give your pie away!" (Pie chart concept in regards to letting people, distractions, and bad thoughts pull your attention away from what you are trying to accomplish)
"Driving is front, chipping is back, and everything else is somewhere in the middle. And guess what, if you forget, put the ball in the middle of your feet because you won't be that far off." (Best advice for new golfers)
"Take a decent practice swing, notice where the club is bottoming and just put the ball there" (Great advice for uneven lies)
"Let's have some fun with this, do it so extreme it's like you are making fun of me and what I've just told you to do."
"Oftentimes we got bogged down by our perception of other people's expectations. Other people don't expect you to be perfect - even if you think they do"
"When you are practicing and it's all falling apart, take a timeout. I used to have a pouting bench in college. I'd go sit there and ruminate on how I was going to lose my scholarship and that I needed to relearn the game left-handed because my right-handed game was shot. Then I'd start to think...it can't be that hard. Why am I making this so hard? Then I knew I was ready to check back into practice."
"It's ok, I've quit golf 2,873 times to date. Sometimes for a minute, sometimes for a day, sometimes for the winter. I'm still here though. Sometimes you have to give yourself permission to step away and take a break so you have a chance to come back with a fresh perspective."
"So, you met a random jerk at the golf course and now you want to quit? There are jerks everywhere, most people are nice. If you run across a jerk at the bank or the grocery store, you don't stop banking and shopping for groceries do you?" (In response to a golfer who wanted to quit because they encountered a mean spirited person)
"Fix whatever doubt you have in your head before you hit it. You know what a good recipe is for duck hooking a ball out of bounds? Standing over the ball thinking it's teed too high and deciding you are going to change your swing in order to swing through higher instead of taking the 2 seconds to lower your tee height." *points at self*
Annette Laura-isms (stolen from my awesome coach Annette Thompson)
"It's not how, it's how many." (In response to my adventurous version of golf)
"When you are on the course, play golf...not golf swing." (Stop micromanaging and play the game)
Industry favorites:
"Doubt is the number one cause of missed shots"
"Your attention has to be focused on your intention"
"Don't practice missing 3-foot putts." (Go home, get help, or practice something else)
"Don't watch your putter while you putt"

Golf Season (April-September)
To schedule a private lesson, please call Baker National at 763-694-7670 x2 and any staff member will be able to assist you in scheduling a lesson. You can also schedule a lesson online. It is free to set up an account with smarter lessons, but a credit card will be needed to reserve your reservation (it will not be charged). Payment will be collected at the time of the lesson.
Winter/Spring (October-April)